If you are looking to export your boat via ship, you will be required, in most cases, to have your vessel sitting on a shipping cradle. It is important that it sits in a well-built and secure cradle. We commit to building you a cradle that is specifically-tailored to fit your boat.
Whether you need a cradle for a personal watercraft or large yacht, power or sailboat, we will provide you with a high quality custom built cradle. Manufactured from only new materials, our cradles are tested in order to maximize safety. Available in both wood and steel construction, our cradles are top of the line.
Interested in shrink-wrapping your boat? Arrigoni Marine Movers does it! Shrink-wrapping helps keep your boat clean during transport, and can also help deter thieves. Average 7mil shrink-wrap is not designed for the increased pressures and speeds of over the road transport. We use only the best materials. Starting under the wrap we use extra padding to prevent tearing, and buffer the sharp edges. We then use a black/white static film on all surfaces that will have direct contact with the wrap. This prevents any chafing or discoloration on colored hulls. We then apply a 12mil thickness wrap that is designed to handle 65 MPH speeds. Secured down to the waterline with hull tape, our system will ensure that your vessel arrives the same way it left. Whether you need to shrink wrap a jet ski or a large yacht, we are here to help.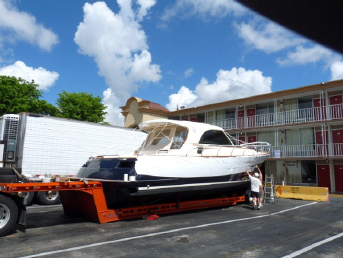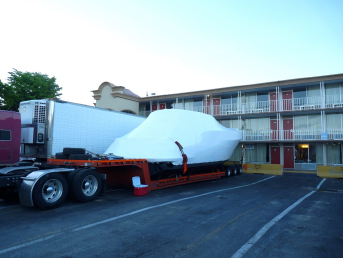 Shown above, we are preparing the vessel for shrink-wrap. In place are our string lines.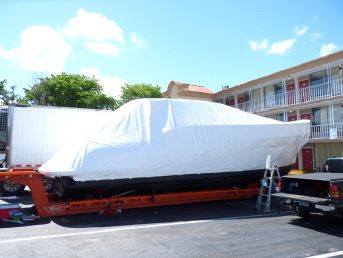 Almost done with the static film, next step is the wrap.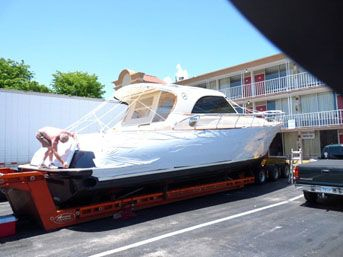 Here the boat is covered with the 12mil wrap, however it has not been heated to get the wrap tight.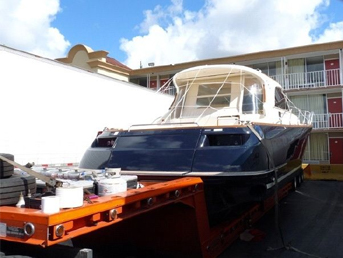 Here is the finished product. The boat is completely wrapped to the waterline, strapped to the trailer, and our flags are in place to meet state laws.